The Best of Times; The Worst of Times? What the Dickens do we mean?
Date:
Thursday, September 6, 2018
Location:
The Grand Event Center, 4101 E. Willow St
Speaker:
Russ Hill and Brian Spinelli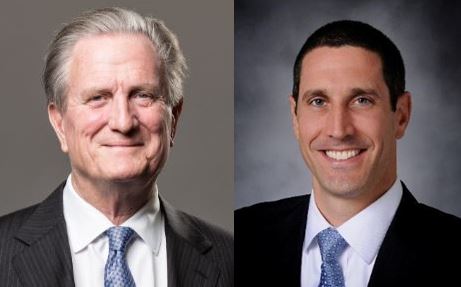 The Best of Times; The Worst of Times? What the Dickens do we mean?
Russ Hill and Brian Spinelli will be sharing their thoughts on the current condition of the world and delving into factors that we all need to be thinking about and addressing. Longevity and life spans are increasing and that comes with implications on how to invest to not outlive your retirement funds. Longevity is not evenly distributed and this could become problematic for policy makers globally.
---
RUSSELL T. HILL
CFP®, AIFA®
Chairman/CEO of Halbert Hargrove Global Advisors LLC
MBA Stanford
Russ has led Long Beach-headquartered Halbert Hargrove Global Advisors for more than four decades. Currently, he is Chairman & CEO—and has happily handed off most of the firm's day-to-day responsibilities to the next generation.
Russ has contributed his time, expertise and energies to community initiatives for many years. He served as Chair of the Long Beach Memorial Medical Center, Community Hospital of Long Beach, and Miller Children's Hospital Governing Boards and is now serving a second time in these roles. In addition, he is Chair of the Investment Committee for MemorialCare Health Services.
A related passion is fostering solutions to aging-related challenges. Russ serves on the Advisory Council for Stanford University's Center on Longevity. He initiated the Center's Design Challenge Series in 2014 and provided the impetus for their multi-year longevity and well-being project, Sightlines.
Other past engagements include serving as President of Stanford Business School Alumni Association, President of Family Services of Long Beach, President of Long Beach Rotary, and six-time Chairman of SCAN Healthplan. Russ is also a co-founder of William Hill Winery and was Founding Vice-Chairman/Treasurer and three-term Chairman of the Long Beach Aquarium of the Pacific, where he still serves on the Board. He also served as Chair of the Desegregation Funds Committee for the Long Beach Unified School District.
He received his BA in Economics from Stanford University and his MBA from the Stanford Graduate School of Business.
Russ and his wife, Avalon reside (mostly) in Long Beach and partly (not enough) in Cortona, Italy.
---
BRIAN M. SPINELLI
CFP®, AIF®
Chair of Investment Committee/Senior Wealth Advisor
MBA Loyola Marymount
Brian is based in Halbert Hargrove's Long Beach office; his responsibilities encompass running the firm's investment committee as well as advising individuals and institutions on their investment and wealth advisory needs. He connects with clients from all walks of life: "I build relationships of trust by being knowledgeable and straightforward, and making a positive difference. Sometimes that means not sugar-coating issues—which I believe most clients come to appreciate."
Brian was named to HH's management team in 2012. His colleagues call him organized, highly disciplined, and fearless in critical conversations with clients. He values "leading the firm's clients and helping them feel understood, supported and confident in their plans and in the work we do for them. I am fascinated by capital markets as well and enjoy the process of researching nontraditional approaches to investments."
Before joining Halbert Hargrove in 2006, Brian worked as a Financial Analyst with Northrop Grumman Corporation, reporting to the CFO and Director of Financial Planning; in this role, he carried out financial projections, market and portfolio analysis, and financial modeling.
Brian earned his Bachelor of Arts in Business Administration – Finance from Loyola Marymount University in 2002 and his MBA from LMU in 2005. He was awarded the ACCREDITED INVESTMENT FIDUCIARY™ designation by the University of Pittsburgh-affiliated Center for Fiduciary Studies and is a CERTIFIED FINANCIAL PLANNER™.
Married to Katie and dad to Gianna and Dominic, Brian loves playing with his kids and being active outdoors. In his time away from the office, he enjoys surfing, running, and swimming—and going on new adventures.
Thank you to this month's speaker sponsor,
Green, Zahn and Associates, an Accountacy Corporation